Virtual | Mentor Minutes: Theresa Loar
Thursday, March 30, 2023
,
3:30 PM
-
4:30 PM EDT
Category: Events
---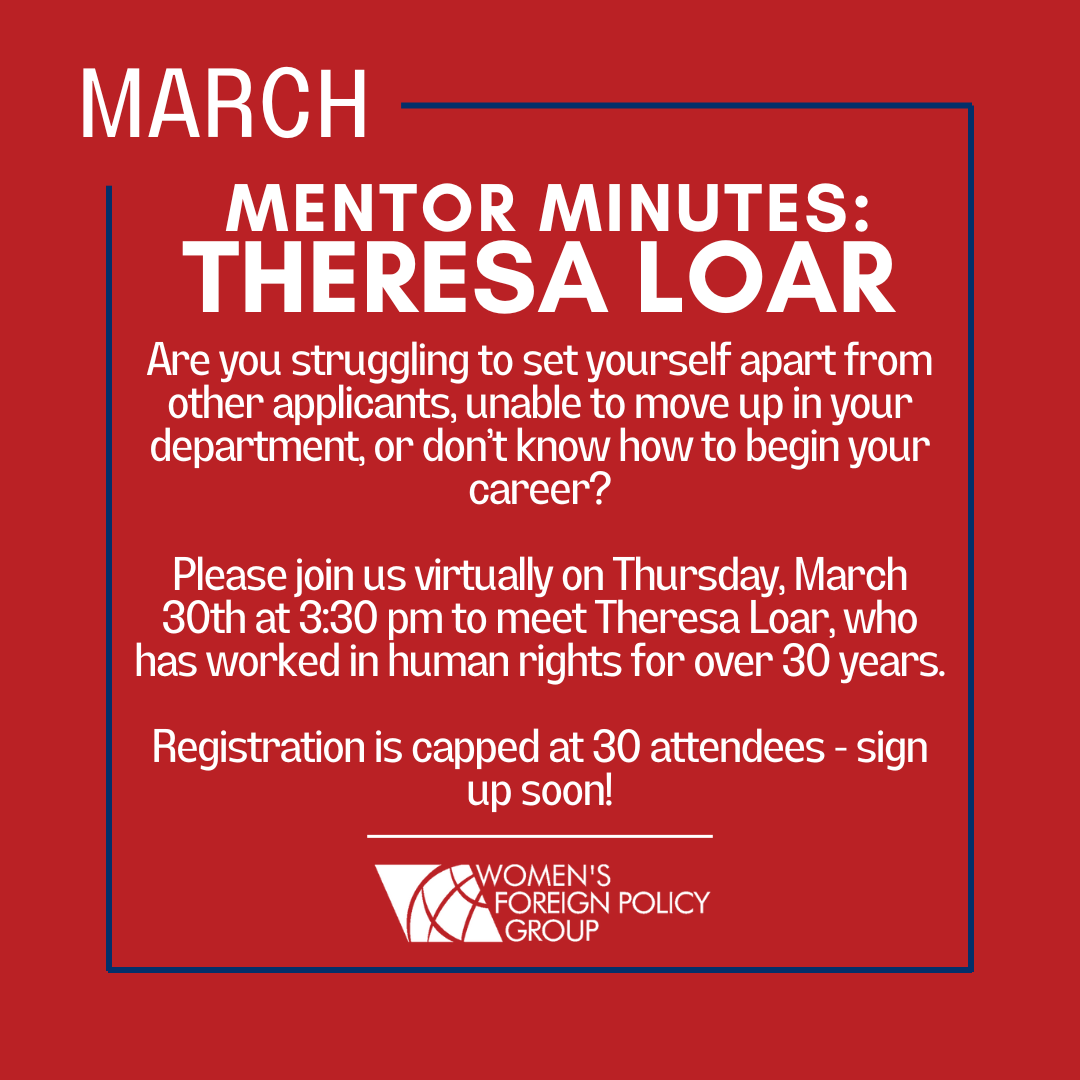 ---
This month, WFPG is excited to announce our brand new mentoring initiative "Mentor Minutes," featuring Theresa Loar this month! Panelists to be announced soon. Mentor Minutes is open to all WFPG members. To learn more about Mentor Minutes, other mentoring programs, and WFPG membership, please see below.
Are you just starting out a career in international affairs? Are you exploring different pathways but unsure how to get there or are you looking for tips and tricks on how to land your dream job? Join the Women's Foreign Policy Group for our monthly Mentor Minutes! On every last Thursday of the month at 3:30 pm EST, WFPG Members will get a chance to speak to an experienced mentor in international affairs in a small-group setting. These intimate conversations will allow Members to interact with women leaders across various sectors.
WFPG believes that mentorship is crucial for the next generation of women leaders to develop confidence and discover the tools they need to succeed. Mentor Minutes are a unique opportunity for students and young professionals to broaden their network among mentors and colleagues alike in a small-group setting. Members will gain insight on upcoming career decisions, learn more about tailoring applications to particular organizations and sectors, and hear directly from those in the field who have unparalleled experience to share.
Not a member, but would like to join Mentor Minutes? Join today! WFPG is committed to strengthening networking connections for students and young professionals across all sectors. Beginning a career in international affairs can be incredibly difficult without support and access to resources. As a WFPG member, not only are you invited to attend Mentor Minutes, but you also receive complimentary admission to all other in-person and virtual professional development and mentoring programs, such as our Career Pathways. Additionally, you will gain access to exclusive member experiences and opportunities.
WFPG Student and Young Professional membership is $60. Other membership types are available here.
Memberships are valid for one full year.
---
A conversation with:
Theresa Loar, Vice Chair of the Women's Foreign Policy Group Board of Directors.
---

Thursday, March 30, 2023 | 3:30 PM ET
Virtual Event - Attendees will receive the Zoom link once they have completed the registration form.
---
Registration is now closed. Please fill out this

form

to be placed on the waitlist.
---
Theresa Loar has worked at the nexus of business, human rights, and diplomacy for over thirty years. She is currently a Lecturer in International Affairs at the Elliott School of George Washington University. She is also an advisor to the Global Business Coalition against Trafficking and Tech Against Trafficking, initiatives of Business for Social Responsibility. She served as Senior Vice President for Global Corporate Affairs at CH2M, a Fortune 500 engineering firm where she worked with governments around the world on the political issues related to major infrastructure programs. During the Clinton Administration, Ms. Loar worked at the highest levels of the US government to promote and protect women's human rights, supporting the commitment of Hillary Clinton and Madeleine Albright to put the advancement of women at the center of US foreign policy. She served concurrently as the Director of the President's Interagency Council on Women and the Senior Coordinator for International Women's Issues. She was also a co-founder and founding president of the Vital Voices Global Partnership and a Foreign Service Officer with diplomatic postings overseas and in Washington, DC.
---
The Women's Foreign Policy Group is a non-partisan organization committed to promoting women's leadership and voices in international affairs through in-depth global issues programming and mentoring. Not a WFPG member? Get engaged with our programming and events:
---