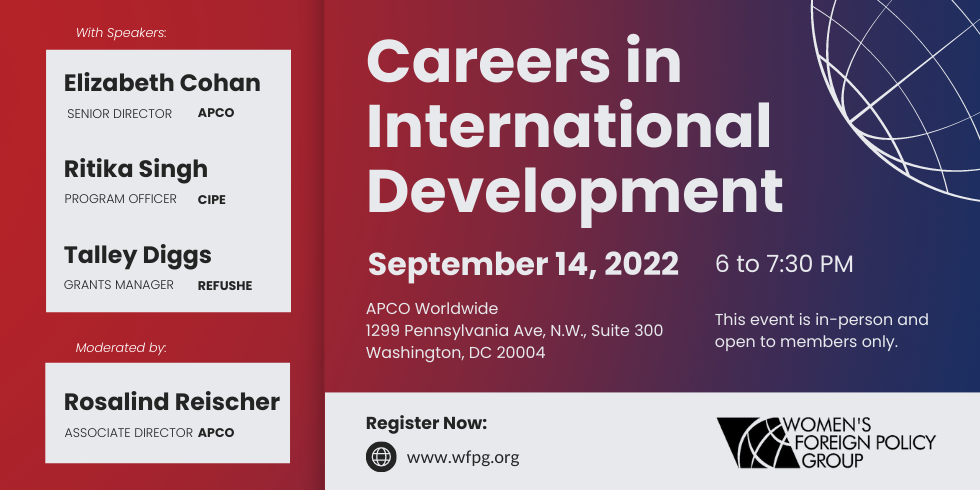 Join us September 14 for a panel on careers in international development. We are pleased to bring together a group of women at various stages of their career in international development. We will gather for an in-person panel and networking where we will explore together career paths in international development.   
The event will be an open-ended discussion with insights from three unique international development professionals,

all 

in

various points of their careers.

---
Date:
Wednesday, September 14, 2022
Program:
6:00 to 7:00 PM ET
Location:
APCO Worldwide, 1299 Pennsylvania Avenue NW Suite 300, Washington, DC 20004
---
Speakers:
Ritika Singh
Program Officer, Center for International Private Enterprise
Elizabeth Cohan
Senior Director, APCO Worldwide
Talley Diggs
Grants Manager, RefuSHE
---
Moderator:
Rosalind Reischer
Associate Director, APCO
---
---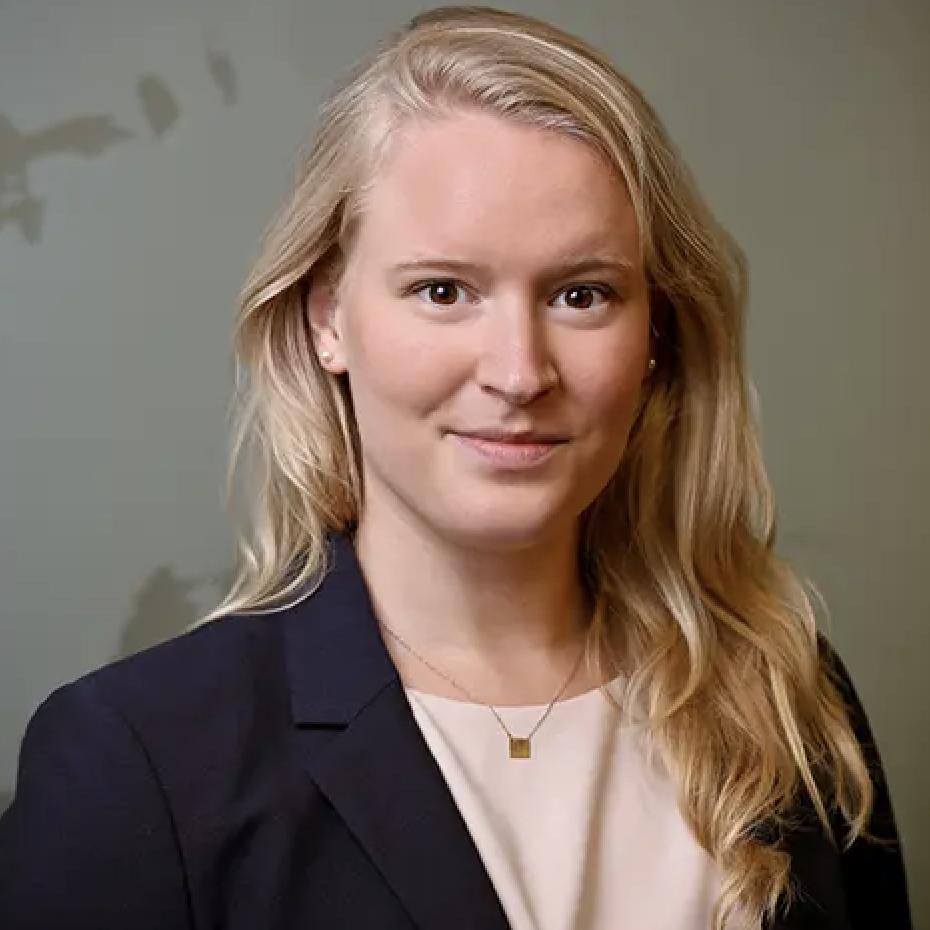 Rosalind Reischer is an associate director at APCO's Washington, D.C.-based Public Affairs practice. She has a background in China policy. Prior to joining APCO, Ms. Reischer worked in government relations and business advisory consulting with the Asia practice at McLarty Associates. She has advised companies in a variety of sectors including tech, agriculture, pharmaceuticals and consumer electronics. She has advised clients on navigating the U.S.-China trade war and business implications of geopolitical shifts including the trajectory of U.S.-China relations. In Washington, Ms. Reischer has also worked with the Project 2049 Institute, a research organization promoting American security interests in Asia.
In China, Ms. Reicher worked at the Nicobar Group in Shanghai, a consultancy focusing on engagement between the United States and China in the civil nuclear industry. While in China she also worked in Shanghai and Nanjing for a Chinese nonprofit in recruiting and human resources. Ms. Reischer is a graduate of the Johns Hopkins School of Advanced International Studies Center in Nanjing, China, where she concentrated in energy, resources and the environment. She received her Bachelor of Arts in East Asian Studies from the University of Virginia, and she is proficient in Mandarin Chinese. Ms. Reischer also serves as a co-chair for the Women's Foreign Policy Group Young Professional Network, and co-VP for professional development with Women In International Trade.
Ritika Singh is a Program Officer on the Global team at the Center for International Private Enterprise (CIPE). Based in Washington, DC, CIPE is a business-oriented NGO working at the intersection of democracy and economic development, partnering with business associations, think tanks, and other organizations to implement homegrown, private sector solutions to local challenges. CIPE's mission is to strengthen democracy through private enterprise and market-oriented reform, fulfilling a vision of a world where democracy delivers the freedom and opportunity for all to prosper. Singh oversees cross-regional programs on strengthening trust in business and government, empowering youth and women, and the future of democracies.

Prior to joining CIPE, Singh was a Senior Manager on the Global Government Affairs and Public Policy team at Walmart, where she helped implement the company's advocacy and engagement strategies in India and China and built relationships with key stakeholders. She also worked in the Asia Practice at McLarty Associates, an international strategic advisory consultancy, and at Kroll Associates, a compliance and due diligence firm. Singh began her career at the Brookings Institution as a Project Coordinator and Associate Editor for Lawfare, a national security law and policy website.

Singh holds a Master's degree in Asian Studies from Georgetown University's School of Foreign Service and a Bachelor's degree in International Affairs & Government from Skidmore College.
Talley Diggs is the Grants Manager at RefuSHE, an NGO dedicated to protecting, educating, and empowering the most vulnerable urban refugee girls and young women in Kenya. Since joining RefuSHE in 2020, she has helped to secure over $3M in funding and managed the organization's diverse grant portfolio to ensure compliance through programmatic and financial monitoring, reporting, and donor communications. Prior to RefuSHE, she worked for the United Nations World Food Programme (WFP) in Cox's Bazar, Bangladesh, where she led internal and external reporting on WFP's support for Rohingya refugees in the world's largest refugee camp. Talley previously worked in McLarty Associates' Africa Practice, where she advised Fortune 500 companies on doing business in African markets and supported operations of the U.S. Nigeria Council for Food Security, Trade, and Investment. She also has international experience working in conflict resolution in northern Kenya, teaching in France, and in humanitarian assistance in Tanzania. For the last four years, Talley has served on the Board of the Advocacy Project, a DC-based non-profit that supports marginalized communities in the Global South. She received a B.A. in International Studies at the University of Mississippi and a M.A. in International Affairs from George Washington University.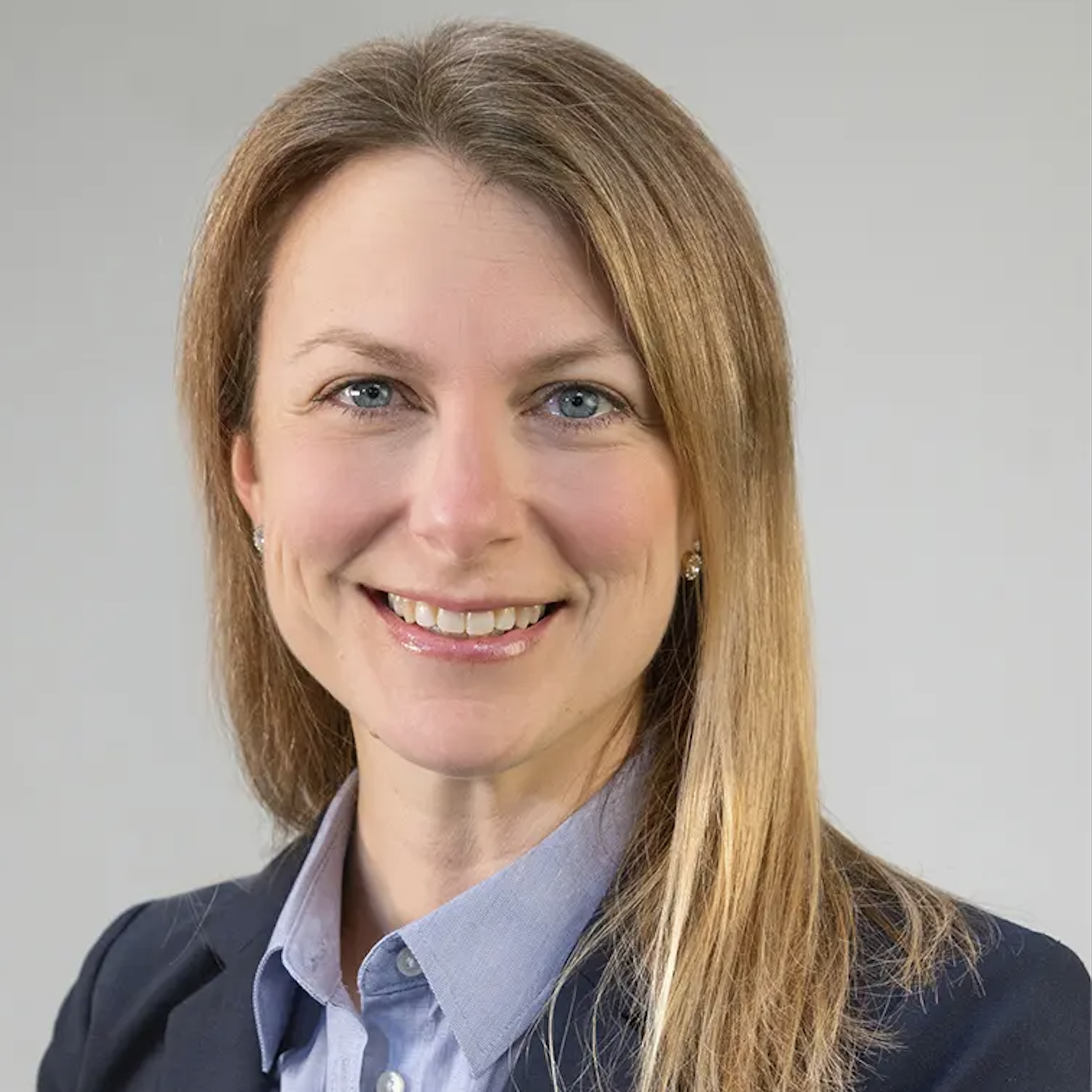 Elizabeth Cohan is a senior director in the office of the executive chairman in APCO Worldwide's Washington, D.C. office. Ms. Cohan brings to this role 17 years of experience leading international development and strategy consulting initiatives, advising and engaging leaders at the highest levels of government and international institutions. She specializes in driving strategy and decision-making processes, stakeholder management across complex organizations, and partnership building with civil society, public and private sectors to achieve business and social impact. She has a background in emerging markets (particularly sub-Saharan Africa), women and gender issues, private sector growth and international development finance.
For six years prior to joining APCO, Ms. Cohan worked in the U.S. federal government as a director at the National Security Council at the White House and as a senior advisor at the U.S. Agency for International Development. In these roles, Ms. Cohan designed and launched Presidential initiatives and partnerships and led policy processes on issues including U.S. foreign assistance, food security, energy access, and women's empowerment in the developing world. She chaired the interagency process that created the Women's Global Development and Prosperity (W-GDP) initiative, championed by Ivanka Trump. She also advised the White House G7 and G20 sherpa teams on sustainable development policy positions.
Prior to serving in government, Ms. Cohan was a strategy consultant at Booz Allen Hamilton and Mission Measurement, leading strategic planning and organization design client engagements. She also implemented gender, health and livelihoods programs for organizations including the International Rescue Committee, John Snow Inc., Search for Common Ground and Africare.
Ms. Cohan has an undergraduate degree from Williams College in Williamstown, Massachusetts in women's and gender studies and African and Middle Eastern studies and holds a master of science in foreign service from Georgetown University in Washington, D.C. She has lived and worked in South Africa, Kenya, Tanzania and the Darfur region of Sudan.
---
The Women's Foreign Policy Group is a non-partisan organization committed to promoting women's leadership and voices in international affairs through in-depth global issues programming and mentoring. Not a WFPG member? Get engaged with our programming and events:
Join | Donate | Give a gift membership

Please direct any questions to [email protected].