Foreign Policy on the Hill: Understanding the Field
Friday, April 23, 2021
,
1:00 PM
-
2:00 PM EDT
Category: Events
---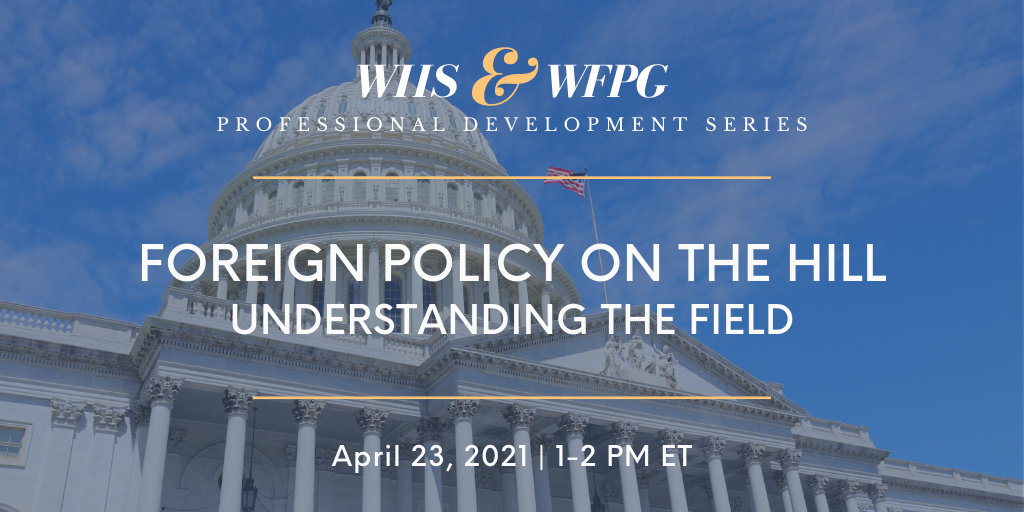 What role does the Hill play in shaping US foreign policy, and what professional opportunities are available? How does working for a member differ from staffing a committee? Join us for a conversation with Chidi Blyden, Maggie McNamara Cooper, Katherine Earle, Meghan Gallagher, and Katarina O'Regan to gain a better understanding of what staffers do, what types of jobs are available, and how to get your foot in the door.
---

Friday, April 23, 2021 | 1 to 2 PM EDT

Panel Discussion 1:00 to 1:40 | Breakout Sessions 1:40 to 2:00
Registered participants will receive a Zoom link

Registration is free for WFPG and WIIS members and $10 for non-members.
Space is limited and advance registration is required. 
---
Chidi Blyden is Professional Staff Member for the House Armed Services Committee Policy Team, advising on Africa and South America's defense equities. Previously, she led the Africa Program at the Center for Civilians in Conflict, served in the Obama Administration as the Special Assistant and Regional Director to the Deputy Assistant Secretary for Defense for African Affairs in the Office of Secretary for Defense for Policy, and worked at the National Defense University. Ms. Blyden is also an adjunct at Georgetown, a co-lead of the Africa Expert Group for the Truman National Security Project, and serves on the Leadership Council for Memunatu Magazine, a magazine for young African girls. She holds a BS from Texas A&M and a MS from George Mason.

Maggie McNamara Cooper is a Professional Staff Member for the Senate Armed Services Committee (SASC) where her portfolio includes budget and policy issues related to US European Command, NATO, and Russia, US Africa Command, counterterrorism, information operations, and overseas humanitarian, disaster, and civic aid. Prior to joining the SASC staff in August 2010, Ms. McNamara Cooper worked in the personal office of Senator Carl Levin. She received a bachelor's degree from Michigan State University and a master's degree in national security studies from the Naval War College.

Katherine Earle is a Professional Staff Member on the Republican staff of the House Foreign Affairs Committee where she focuses on Europe, Russia and NATO. She is currently working on the implementation of the Belarus Democracy, Human Rights, and Sovereignty Act and the Protecting Europe's Energy Security Act, as amended to prevent the competition of the Russian Nord Stream 2 pipeline project. Previously, she was a Nuclear Security Fellow in the office of Senator John Hoeven (R-ND). Before working on the Hill, Katherine served at AEI as Senior Program Manager in the Foreign and Defense Policy Studies Department and as a research associate for the Director of Russian Studies. She holds a MA in Security Studies from Georgetown and a BA from Middlebury.


Meghan Gallagher is a Professional Staff Member on the House Foreign Affairs Committee for Lead Republican Michael McCaul (R-TX) handling foreign assistance, sub-Saharan Africa policy, global women's issues, UN peacekeeping, and conservation/wildlife trafficking and previously handled sub-Saharan Africa and conservation for Chairman Ed Royce (R-CA). Prior to this position, she worked for Senator Jeff Flake, assisting with foreign policy, defense, and international trade issues. Meghan also spent time in South Africa on a USAID Research and Innovations fellowship and in Uganda working with the Pulte Institute for Global Development. Originally from California, she graduated from the University of Notre Dame with a BA in Political Science and International Development Studies.



Katarina O'Regan is an Analyst in Foreign Policy and Presidential Management Fellow at the Congressional Research Service, which provides policy and legal analysis to committees and Members of both the House and Senate, regardless of party affiliation. At CRS, Katarina provides authoritative, confidential, objective and nonpartisan analysis to Congress on topics relating to transnational crime, corruption, and trafficking. Prior to CRS, she worked on international development and human security issues in Tunisia, Bangladesh, Liberia, and Uganda, and in DC at the British Embassy and NDI. She has a MS in Foreign Service from Georgetown, where she served as Teaching and Research Assistant to former Secretary Madeleine Albright, and a BA from Fordham. In 2019, she co-chaired the WFPG's Young Professional Network.

Kim Kahnhauser Freeman (Moderator) is the executive director of the Women's Foreign Policy Group, a non-profit organization which promotes women's leadership and amplifies their voices in international affairs. Since joining the WFPG team in 2006, she has held roles of increasing responsibility supporting the organization's global issues programs, membership outreach, mentoring initiatives, and strategic development. Previously, Kim was a Fulbright teaching fellow in Tirol, Austria, and researched public housing for the Center for Social Justice Research, Teaching and Service in DC. Kim was a 2011 State Department Young Turkey/Young America Fellow, and holds a BS in International Politics from Georgetown and an Executive Certificate in Nonprofit Management from Georgetown's McCourt School of Public Policy.

---
Women's Foreign Policy Group and Women In International Security are collaborating on regular career development webinars. Through our Professional Development Series, participants can expand critical skills from virtual networking and diplomatic negotiations to public speaking and mid-career transitions.
---