Dear Members and Friends,

Welcome back! The WFPG Board of Directors and I hope that you've had a wonderful summer. We have a full lineup of events this fall and we hope that you will join us for as many as you can. We are also thrilled to announce the release of our 2019 Guide to Women Leaders in International Affairs.

We appreciate all of your support and look forward to seeing you soon!

Best,
Kim Kahnhauser Freeman
WFPG Executive Director
---
2019 Guide to Women Leaders Release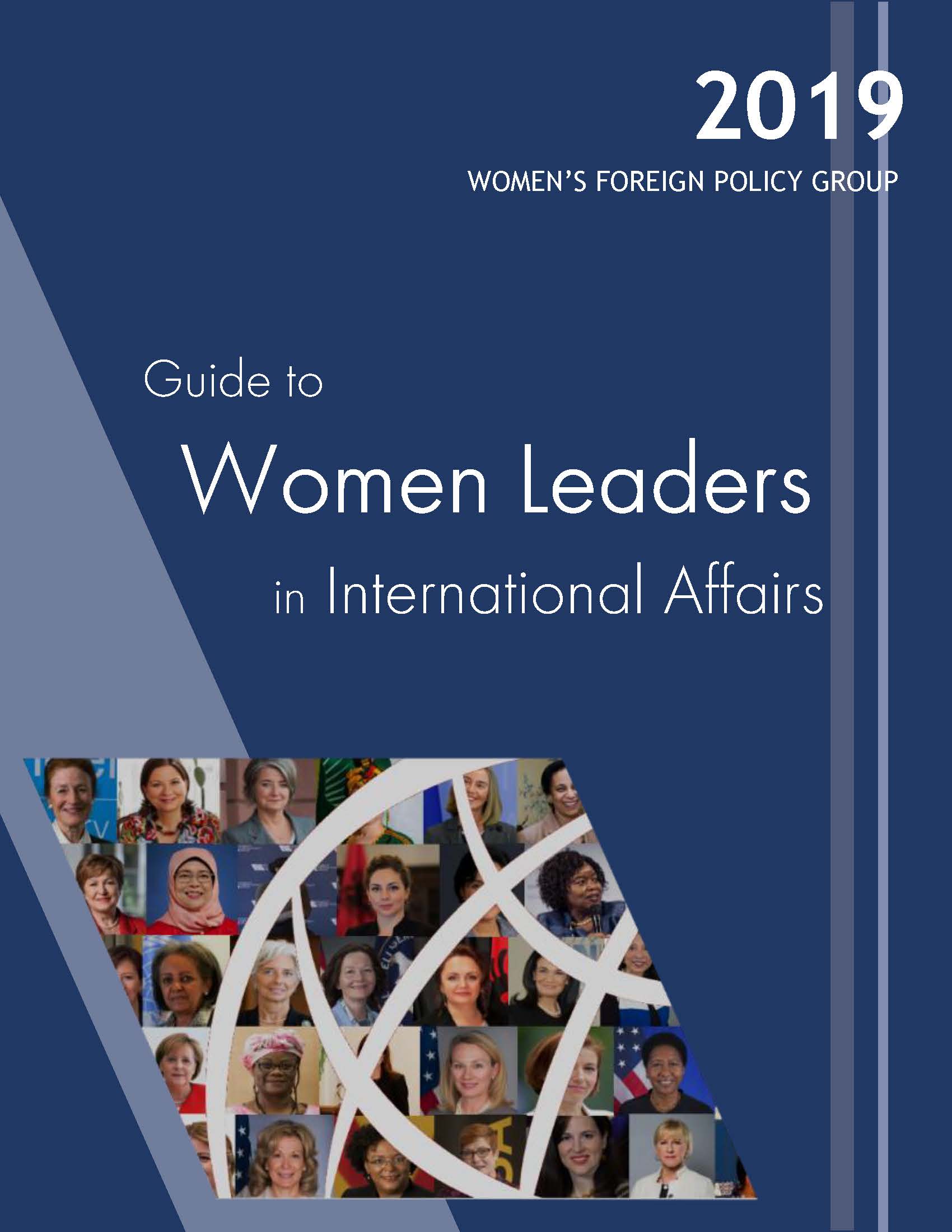 Do you know how many United States ambassadors are women? How many heads of state? From government ministers and US officials to leaders of international organizations and corporations, the Women's Foreign Policy Group's Guide to Women Leaders provides an index of prominent women shaping foreign policy around the world. View WFPG's 2019 Guide
---
Fall Events




Author Series
Putin's World: Russia against the West and with the Rest 
September 9 | 6 p.m. | DC

How did Russia manage to emerge resurgent on the world stage and play a weak hand so effectively? Is it because Putin is a brilliant strategist? Or has Russia stepped into a vacuum created by the West's domestic distractions? Join us for a conversation with author Angela Stent on her newest book, PUTIN'S WORLD. The discussion will be moderated by former CNN Moscow Bureau Chief and Correspondent Jill Dougherty and co-sponsored by NYU Washington, DC. Learn more and register


Equity and Empowerment: A Feminist Approach to Aid 
September 12 | 12 p.m. | NY

Gender equality is a critical factor for achieving sustainable peace and development, but women and girls continue to suffer discrimination and violence--especially in the wake of disaster. How can we empower women and girls through development, peacebuilding and aid? How do we ensure that women's voices are heard? Join us for a roundtable with Randi Davis, Director of Gender Equality at UNDP and advocate and field veteran Marcy Hersh. Learn more and register




Embassy Series
Moving Forward: The Evolving US and Mexico Partnership
October 23 | 6:30 p.m. | DC

Join us for an Embassy Series conversation with Ambassador Martha Bárcena Coqui and Karen DeYoung, senior national security correspondent and an associate editor of The Washington Post. Bárcena became the first woman Ambassador of Mexico to the US on January 11, 2019. Previously she served as Mexico's Permanent Representative to the United Nations Agencies based in Rome, Ambassador to Turkey, Ambassador to Denmark, and as Consul in Barcelona. Learn more and register
---
 Partner Events



USA-Central Europe Women in Business Summit 
October 17 | 8 a.m. | NY

The WFPG partnering with Cultural Vistas, Polish American Women Entrepreneurs and representatives from the Consulates of Poland, Germany, the Czech Republic, Hungary, and the Embassy of Slovakia on the USA-Central Europe Women in Business Summit on October 17th in New York. The Summit will convene professionals from the US and Central Europe to strengthen connections and create global career pathways for women, provide opportunities for increased trade and investment between regions, and showcase global leadership initiatives. Learn more and register
---
Young Professional Network Update

This summer, the WFPG's Young Professional DC Network met with Simone Peloquin of the Impl. Project, Diana Caley of USAID and WFPG Board Member Allison Ford of United Technologies. They also hosted a conversation on "Real Talk, Grad School Edition". On September 24th, the Network will host Becca Balis, an international development and humanitarian response specialist. The network is open to all WFPG student and young professional members, as well as young professionals working at the offices of any of our organizational or corporate members.

---
Member Blog

The WFPG is relaunching its member blog this fall! Members are invited to submit blog posts on foreign policy topics, women's leadership, and career and mentoring advice. Proposals and submissions should be sent to [email protected]. Learn more 
---
Member News

Do you have a new job? Did you receive a professional award? WFPG will be launching a new Member Updates section in our next newsletter. Please share your news with us at [email protected] so we can congratulate you and share your news with fellow WFPG members!
Not a member? Get engaged and join us!
  
---
In this issue...
---
Upcoming Events
Sept 9 | DC
Author Series:
Putin's World: Russia against the West and with the Rest
Register

Sept 12 | NY
Equity and Empowerment: A Feminist Approach to Aid
Register

Oct 23 | DC
Moving Forward: The Evolving US and Mexico Partnership
Register


---