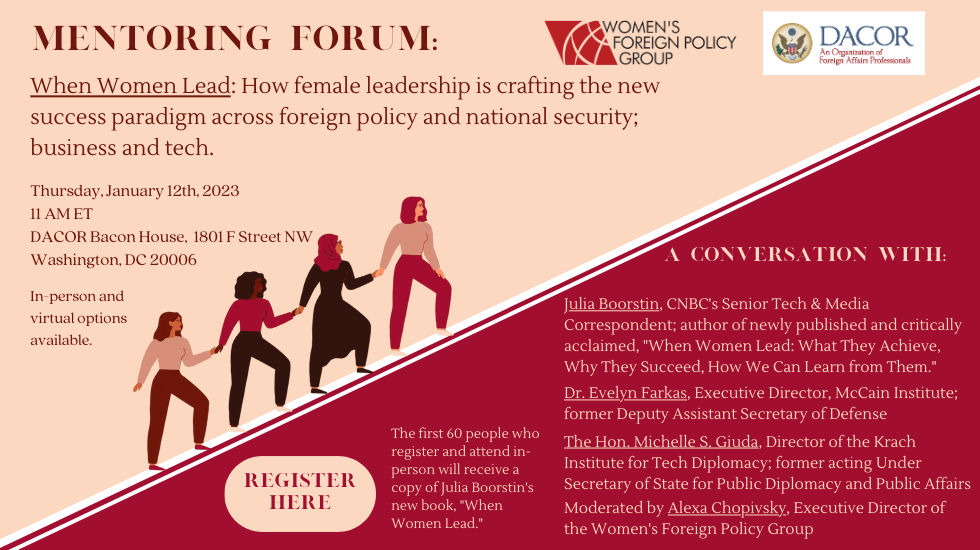 Mentoring Series
When Women Lead: How female leadership is crafting the new success paradigm across foreign policy and national security; business and technology. 
As we navigate the most uncertain times since World War II, what qualities help women leaders succeed when odds are stacked against them? What skills and approaches are newly viewed as critical to the success of the next generation of female leaders, from Washington to Silicon Valley to cyberspace, and around the world? How are female leadership strategies and commonalities creating new success standards across sectors – especially around societal impact and purpose-driven missions – and how does this blueprint affect the way we will conduct foreign policy, diplomacy, business, and more, in the future?
Please join us for a leadership "masterclass" event targeting mentors and mentees alike, spanning business, foreign policy, tech diplomacy, and beyond.
This event is in partnership with DACOR. 
---
A conversation with:
Julia Boorstin, CNBC's Senior Tech & Media Correspondent; author of newly published and critically acclaimed, "When Women Lead: What They Achieve, Why They Succeed, How We Can Learn from Them."
Dr. Evelyn Farkas, Executive Director, McCain Institute; former Deputy Assistant Secretary of State
The Hon. Michelle Giuda, Director of the Krach Institute for Tech Diplomacy; former acting Under Secretary of State for Public Diplomacy and Public Affairs
Moderated by:
Alexa Chopivsky, Executive Director of the Women's Foreign Policy Group

---
Event Details:
Thursday, January 12, 2023 | 11:00 AM - 1:30 PM ET
DACOR Bacon House, 1801 F St NW, Washington, DC 20006

---
Program:
11:00 AM - 12:00 PM: Moderated Panel
12:00 PM - 12:30 PM: Networking and Cash Bar, Book Signing
12:30 PM - 1:30 PM: Lunch *Please note that lunch will cost $35 extra.*

Lunch will be seated and 2 courses and refreshments will be served.

Pricing:

Panel and Networking Ticket Only: $5
Panel, Networking, and Lunch Ticket: $40
Virtual: Free



The first 60 people to register and attend in-person will receive a free copy of Julia Boorstin's new book

"When Women Lead."
---
---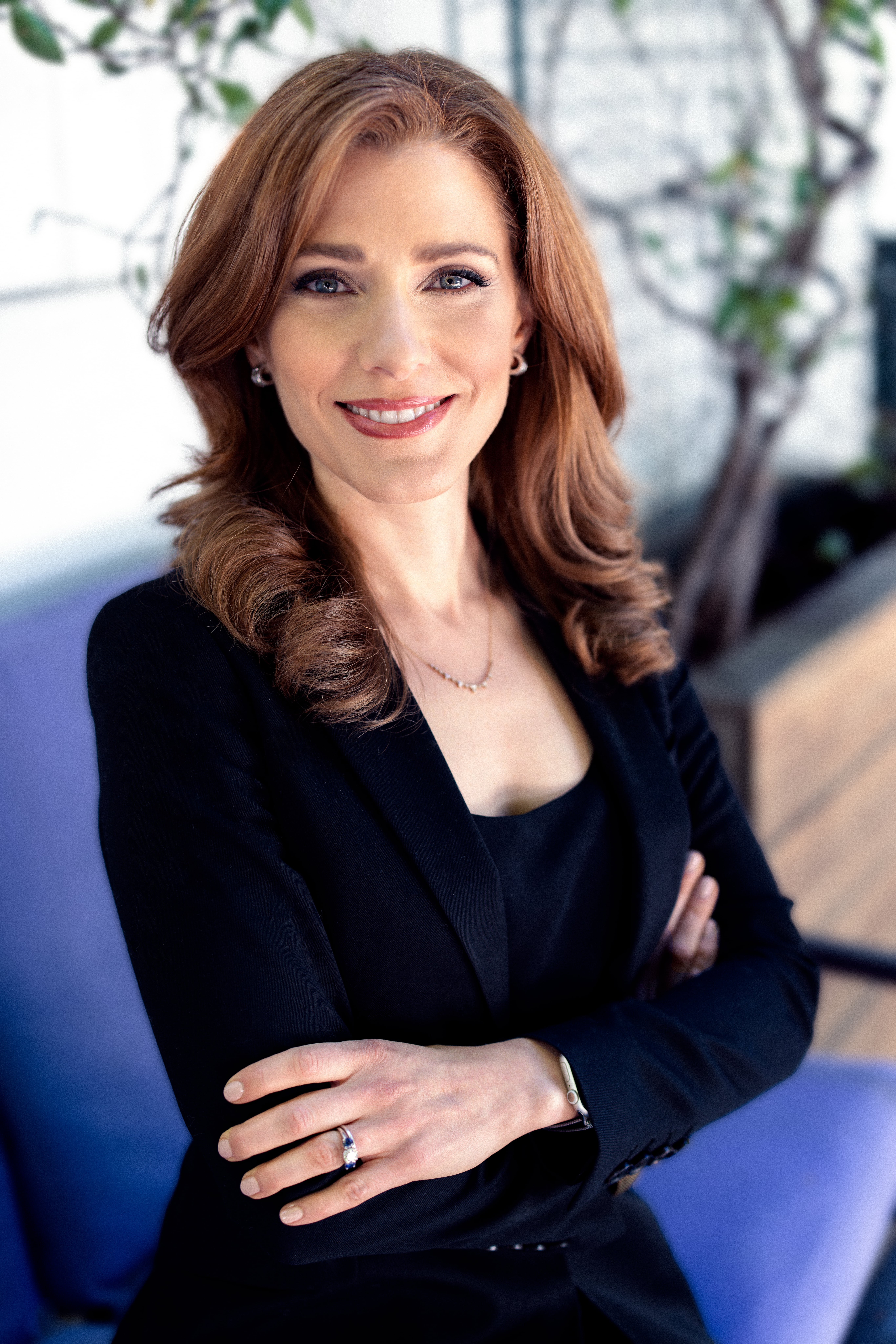 Julia Boorstin is CNBC's Senior Media & Tech Correspondent and has been an on-air reporter for the network since 2006. She also plays a central role on CNBC's bicoastal tech-focused program "TechCheck" delivering reporting, analysis, and CEO interviews with a focus on social media and the intersection of media and technology. In 2013, Boorstin created and launched the CNBC Disruptor 50, an annual list she oversees, highlighting private companies transforming the economy and challenging companies in established industries. She also helped launch the network's 'Closing the Gap' initiative covering the people and companies closing gender and diversity gaps. A graduate of Princeton University, she has been a reporter for Fortune magazine, as well as a contributor to CNN and CNN Headline News. She lives in Los Angeles with her husband and two sons. She is the author of When Women Lead: What They Achieve, Why They Succeed, and How We Can Learn from Them, which was released from Avid Reader Press on October 11, 2022. 


Dr. Evelyn N. Farkas has three decades of experience working on national security and foreign policy in the U.S. executive, legislative branch, private sector and for international organizations overseas. In 2019-2020 she ran to represent New York's 17th Congressional District in the House of Representatives. She is currently the executive director of the McCain Institute. Prior, she was president of Farkas Global Strategies and a senior fellow at the German Marshall Fund of the United States and the Atlantic Council and national security contributor for NBC/MSNBC.
She served from 2012 to 2015 as deputy assistant secretary of defense for Russia/Ukraine/Eurasia, Balkans, Caucasus and conventional arms control. From 2010 to 2012, she was senior advisor to the Supreme Allied Commander Europe and special advisor to the Secretary of Defense for the NATO Summit. She was the executive director of the Commission on the Prevention of WMD Proliferation and Terrorism and senior fellow at the American Security Project. From 2001 to 2008, she served as a professional staff member of the Senate Armed Services Committee responsible for Asia Pacific, Western Hemisphere, Special Operations Command, and policy issues including combatting terrorism and export control.
Dr. Farkas obtained her Ph.D. from The Fletcher School.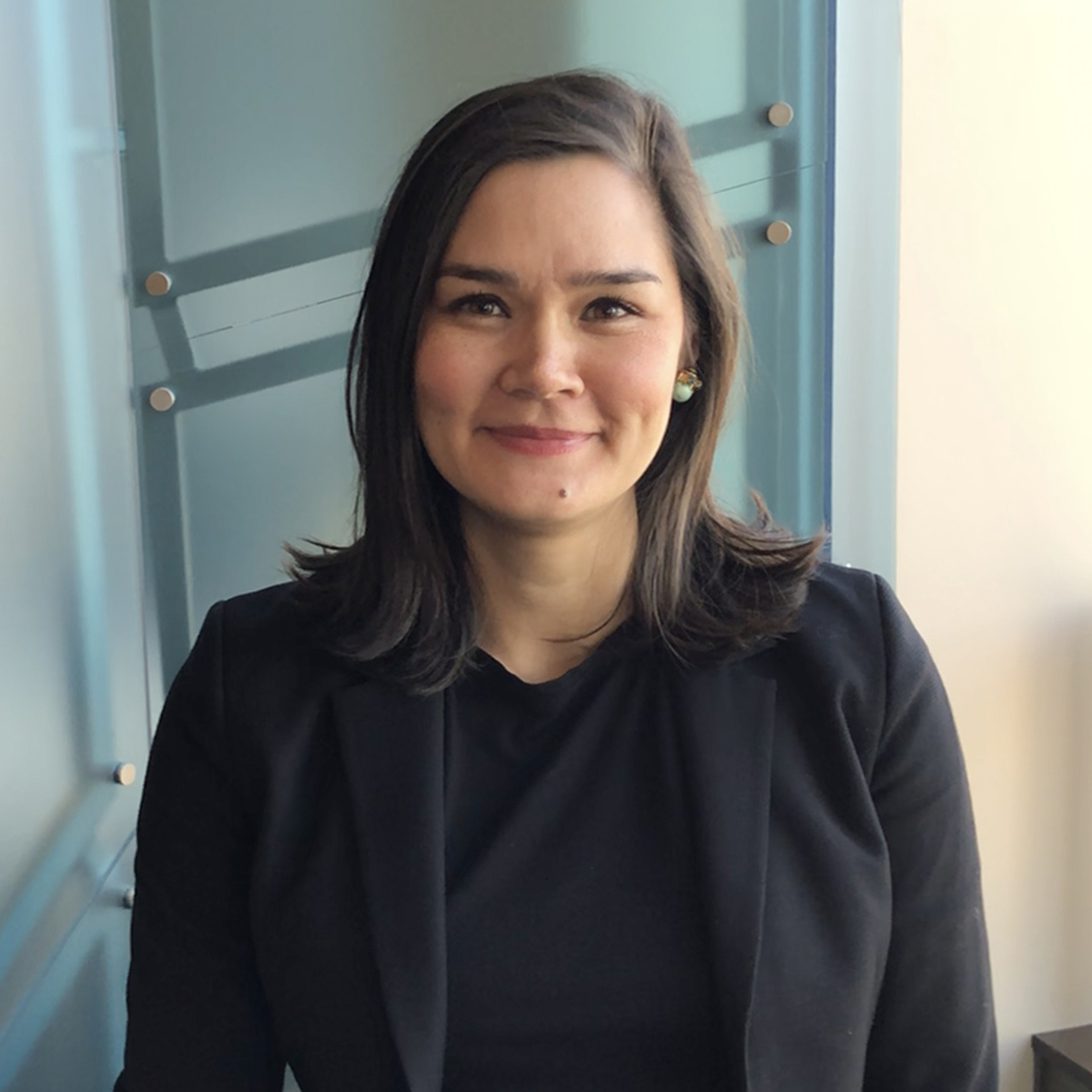 Michelle S. Giuda is the Director of the Krach Institute for Tech Diplomacy at Purdue, the global authority on tech statecraft whose mission is to advance freedom through trusted technology. Previously, Giuda was Executive Vice President of Geopolitical Strategy & Risk at global communications firm Weber Shandwick.From February 2018 to March 2020, Giuda served as the U.S. Assistant Secretary of State for Global Public Affairs. In February 2019, Secretary of State Pompeo also delegated to Giuda the authorities of the Under Secretary of State for Public Diplomacy and Public Affairs. In this capacity, she also served as a Board Member of the U.S. Agency for Global Media. In May 2019, Giuda led and executed the largest restructuring at the State Department in twenty years to modernize the Department's global public affairs and public diplomacy operations.Prior to the State Department, Giuda was Senior Vice President of Global Corporate Communications at Weber Shandwick in New York, serving as a member of the firm's global leadership team. Previously, she was also Deputy Press Secretary for former Speaker of the House and presidential candidate Newt Gingrich.
Giuda received her Master's Degree in Political Management from George Washington University and earned a B.A. in Political Science from UCLA.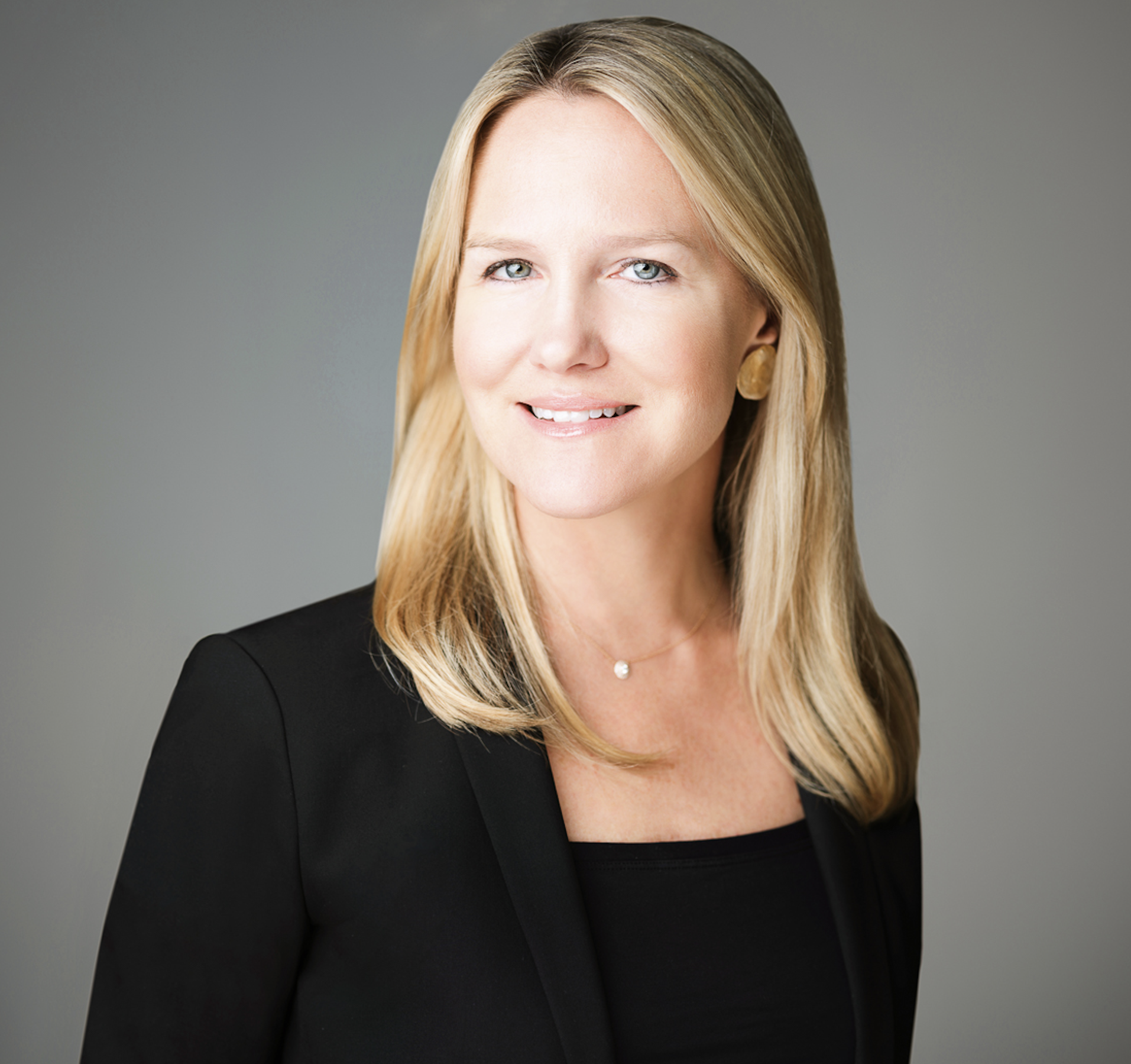 Alexa Chopivsky is the Executive Director of the Women's Foreign Policy Group. Previously, as the inaugural Executive Director of Ukraine House Davos, Ms. Chopivsky led the creation and elevation of Ukraine's platform alongside the World Economic Forum, both before and after the war. She is deputy Chairwoman of the Supervisory Board at Ukraine Invest, and since 2012, has served as the Director of the Program on the World Economy at the Aspen Institute, a role she will continue. She was a Council on Foreign Relations Term Member and a Eurasia Foundation Young Professionals Network selectee.
She started her career as a journalist working for NBC News, where she covered world events from the New York, Washington, and London bureaus. She later moved to Kyiv, where she was a consultant for an American firm, as well as a freelance journalist, traveling across Eastern Europe, the Caucasus, and Central Asia.
Ms. Chopivsky has deep roots in Ukraine. She is the Founder of Transnational Education Group and served as Executive Director of the American Center for a European Ukraine. She also served as an Adviser to the Minister of Economic Development, Trade, and Agriculture of Ukraine. She is currently on the boards of Teach for Ukraine; the Ukrainian-Swiss Business Association; and Women Forward International. In 2021, the President of Ukraine awarded Ms. Chopivsky the Order of Princess Olga.
She received a BA from Yale University with distinction in Political Science and Russian & East European Studies, an MS from Columbia University Graduate School of Journalism, and an MIPP from Johns Hopkins University's School of Advanced International Studies.
---
 The Women's Foreign Policy Group is a non-partisan organization committed to promoting women's leadership and voices in international affairs through in-depth global issues programming and mentoring. Not a WFPG member? Get engaged with our programming and events: