Virtual | Women, Peace, & Security Webinar
Thursday, December 15, 2022
,
4:30 PM
-
6:00 PM EDT
Category: Events
---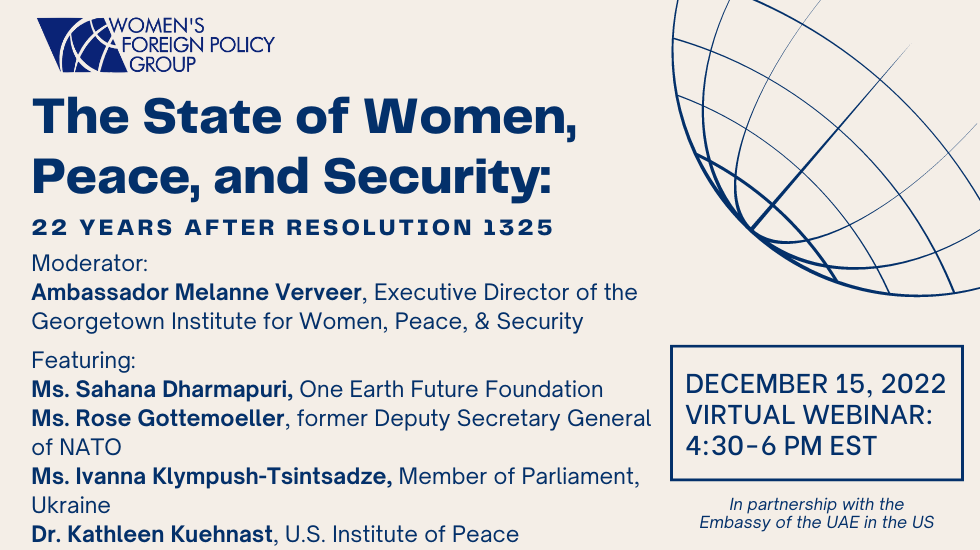 Taking stock: Twenty-two years after UN Resolution 1325 affirmed the critical role women play in preventing and resolving conflicts, is the world a safer place?
Despite significant achievements, where are the major gaps and challenges that remain in the integration of women's perspectives in peace agreements, decision-making, humanitarian efforts, and reconstruction? Why has there been an increase in gender-based violence, and a failure to protect women across the globe? 
While violent conflict disproportionately affects women, why is women's participation in peace processes still disproportionately low -- and how do we overcome this imbalance? 
Hear from our experts on how various countries across the globe are tackling these issues.
This event is in partnership with the Embassy of the United Arab Emirates in the United States.
---
A conversation with:

Ms. Sahana Dharmapuri, One Earth Future Foundation


Dr. Kathleen Kuehnast

, United States Institute of Peace
Ms. Ivanna Klympush-Tsintsadze
, Member of Parliament,
Ukraine, 

Chair of the Parliamentary Committee on Integration of Ukraine to the EU
Ms. Rose Gottemoeller
, Former Deputy Secretary General of NATO
Ambassador Melanne Verveer
, Executive Director of the Georgetown Institute for Women, Peace, & Security
---

Thursday, December 15, 2022 | 4:30-6:00 P.M. ET
Virtual Webinar - Zoom link will be provided after you register.
---
The Women's Foreign Policy Group is a non-partisan organization committed to promoting women's leadership and voices in international affairs through in-depth global issues programming and mentoring. Not a WFPG member? Get engaged with our programming and events:
---