Climate Change and Food Security in the Middle East
Thursday, January 27, 2022
,
11:00 AM
-
12:00 PM EDT
Category: Events
---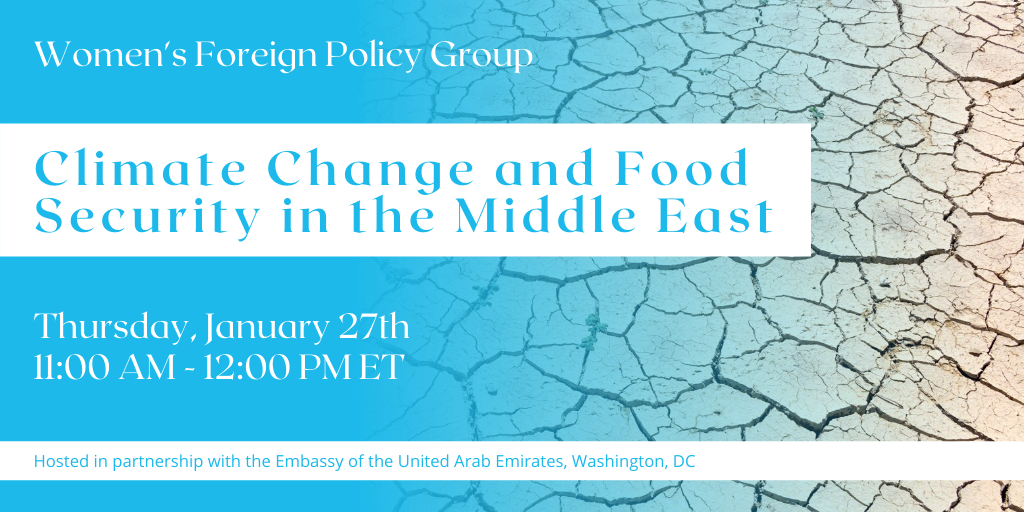 The Women's Foreign Policy Group invites you to a compelling conversation on the impact of climate change on food security, with a particular focus on the Middle East. Our panel of experts will address what is being done to protect arable land in the region, how climate impacts access to healthy foods, and how these issues disproportionately affect women and girls.
Join us for a virtual conversation with:

 Dr. Sweta Chakraborty, We Don't Have Time US
Dr. Wanida Lewis, Crescendo Foods
Prof. Sajid Maqsood, United Arab Emirates University
Ayat Soliman, The World Bank
Ambassador Kathleen Doherty (Moderator), WFPG Board of Directors

---
Thursday, January 27, 2022 | 11:00 AM to 12:00 PM ET
Registered participants will receive a Zoom link

REGISTER


---
Dr. Sweta Chakraborty
is a behavioral scientist whose work is motivated by the need for clear, credible, science communication to urgently and proactively manage the risks that threaten human security and well-being from climate change to COVID-19. Sweta brings a unique blend of academic and both public/private sector expertise as a communicator and consultant. She merges science, policy, and the media to get decision-makers the information they need for better behavioral outcomes and a positive impact on the planet.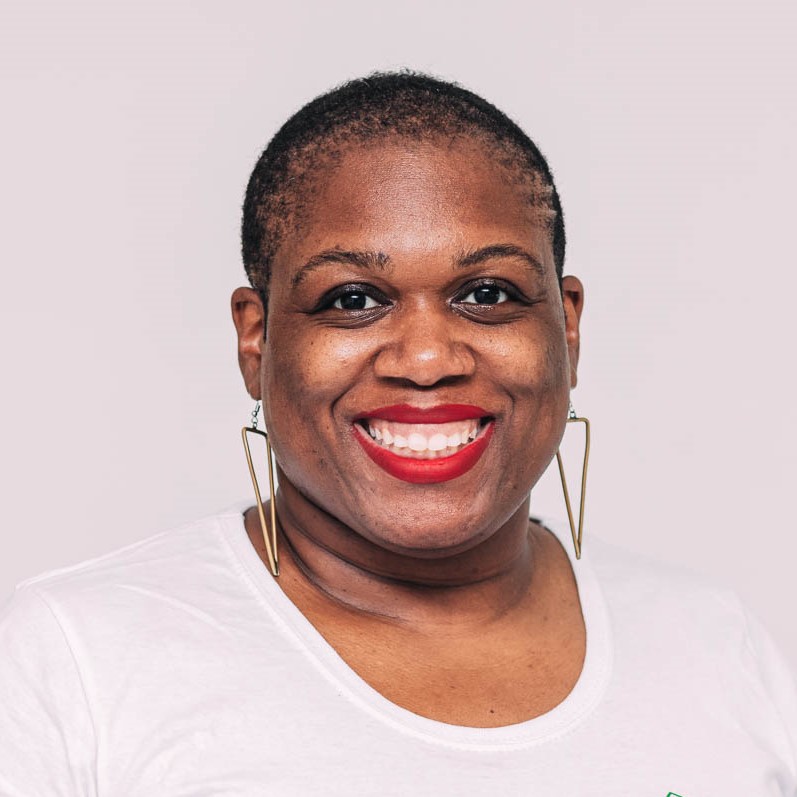 Dr. Wanida Lewis is the CEO/Founder of Crescendo Foods, a culinary incubator in Accra, Ghana. Previously, she was a Senior Economic Program Advisor in the U.S. State Department's Office of Global Women's Issues and a Foreign Affairs Officer/AAAS Fellow in the Office of Agricultural Policy. In 2018, Dr. Lewis founded Young, Gifted, & Brown, LLC, a pipeline program supporting young Ghanaian women and entrepreneurs in STEM. She was named by New America as one of thirty-five "Black American National Security, and Foreign Policy Next Generation Leaders". In 2019, Young Professionals in Foreign Policy named her the "Gender Issues in Foreign Policy" Fellow. She received her BS in Chemistry from Saint Augustine's University, an MS in Analytical Chemistry from North Carolina Central University and a doctoral degree in Food Science from North Carolina State University.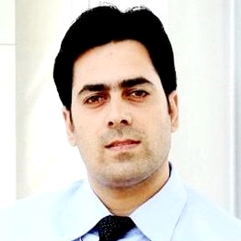 Professor Sajid Maqsood is an Associate Professor and Assistant Dean for Research and Graduate studies at the United Arab Emirates University (UAEU). Since he joined UAEU, he has dedicated and aligned his research exclusively on food and nutritional needs of UAE and the region. He has established an innovative research program at UAEU which focuses on bioactive molecules in camel milk and dates, investigating their functional and health beneficial properties, and diversifying their utilization through novel food product development. He is leading an active research group in the Food, Nutrition and Health Department with multidisciplinary collaboration within UAEU and abroad.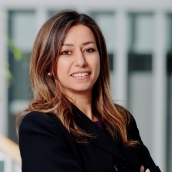 Ayat Soliman is the Regional Director for the World Bank Group's Sustainable Development Department for the Middle East and North Africa (MNA) region. Ms.Soliman has over 25 years of experience working on global issues of sustainable development in the World Bank, covering water, agriculture, rural, social and urban development, and climate resilience. In her current assignment, Ms. Soliman is in charge of setting the policy direction, fostering partnerships and ensuring the integrated delivery of country and regional programs of the Sustainable Development Practice Group (PG) in MNA. She oversees an active portfolio of $5.2 Billion in investments in urban and social development, agriculture, water and environment sectors, as well as analytical work and multi-donor trust funds. She holds an MSc and BSc in Environmental and Mechanical Engineering from the American University in Cairo.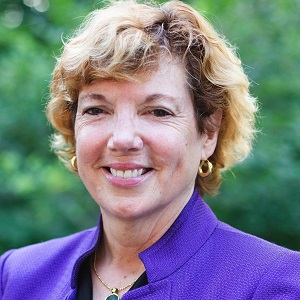 Ambassador Kathleen Doherty (moderator) has had a distinguished diplomatic and international career. She is the Chief Strategy and Retreats Officer of the Annenberg Foundation Trust at Sunnylands, which convenes experts from around the globe for meetings and retreats that address an array of diplomatic and societal issues. Prior to her work at Sunnylands, she was a career diplomat, serving as US Ambassador to Cyprus, as a Deputy Assistant Secretary of State for European Affairs, and in leadership positions in Rome, London, and Moscow. Earlier in her diplomatic career, she served in Brazil and the Dominican Republic. Recognized with more than 15 State Department awards, Doherty has extensive experience working across the government and with industry, and has particular expertise on global economic issues including those related to energy, financial services and technology. She is a member of the Council of Foreign Relations and the American Academy of Diplomacy; an advisory board member of the company sparks & honey; and a board member of the Cyprus-American Archaeological Research Institute and the Women's Foreign Policy Group.
---
---