YP Network: Skills-Building for Effective Negotiation
Thursday, June 24, 2021
,
5:30 PM
-
7:00 PM EDT
Category: Events
---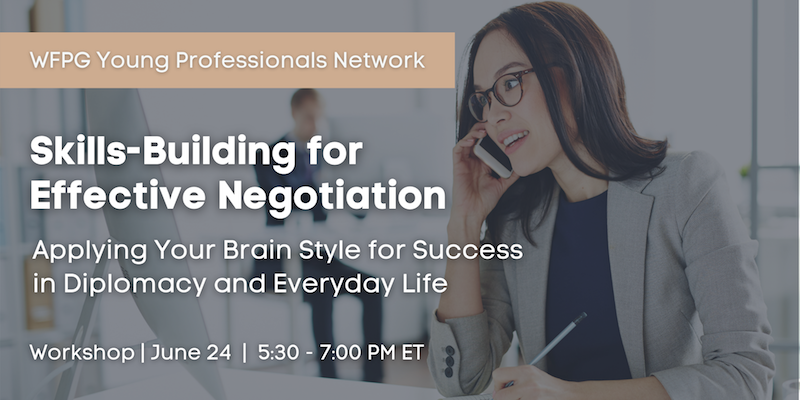 Join us for our virtual workshop on June 24th!  
Do you want to experience a unique and exceptionally effective method of communication which will ensure successful negotiation and diplomacy in your professional and personal interactions? 
Join fellow WFPG members for a workshop where you will learn psychological principles of negotiation and diplomacy, and proven skills which determine your own and others' "brain style" preferences that you can use to be your best and get results you desire. In this experience, you will see how your preferences relate with others' styles, to enhance your core competencies and to create effective and desired outcomes in your interactions. You will take a short "brain style" inventory based on extensive research, get your results, and practice skills based on these results which you can then apply to many business and personal situations.
Registrants are asked to answer a few short questions to begin thinking about the interface between psychology and diplomacy. The week of the event, the WFPG will send all registered members a quick 10-question multiple choice survey to determine your style, and to help us place you in the appropriate working group. 
Join us for this fun and informative workshop! You will be surprised and empowered about what you will learn about yourself and others, and gain specific strategies and "soft power" that you can immediately use in your life. The workshop will be led by Columbia University Professor and author Dr. Judy Kuriansky and will include brief remarks by H.E. Katalin Bogyay, former Ambassador of Hungary to the United Nations. 
Thursday, June 24th | 5:30 - 7:00pm ET
This event is now full. Please register for the waitlist if you would like
to attend should space become available.

REGISTER FOR THE WAITLIST


Registration is free of charge and only open to WFPG members. 

Given the structure of this interactive program, we ask that you only register if you are able to commit to be present, and to stay for the full duration of the program.

 Only registered attendees will have access to materials used for the workshop.

---
Dr. Judy Kuriansky is a distinguished Professor of Psychology at Columbia University Teachers College, where she teaches about "Psychology and the United Nations" in the master's program. An advocate for women, peace, and mental health and well-being and its nexus with the UN 2030 Agenda for Sustainable Development, she has impacted UN policy to successfully insure the inclusion of mental health and well-being. Currently serving as the main NGO representative to the UN of the International Association of Applied Psychology and the World Council for Psychotherapy, she works closely with government and civil society partners to co-organize events in conjunction with key UN and World Bank/WHO meetings. She serves on several boards, provides resilience trainings after natural disasters (from China and Japan to Sint Maarten and Iran) and now during the COVID-19 pandemic, and writes prolifically on topics ranging from The Psychosocial Aspects of a Deadly Epidemic: What Ebola Has Taught Us About Holistic Healing to The Complete Guide to A Healthy Relationship. Fondly-known in the media as "Dr. Judy" from her popular call-in advice show "LovePhones", she was also an award-winning television reporter for CNBC, WCBS-TV, WABC-TV, and a celebrity commentator on "Showbiz Tonight" on CNN. A graduate of Smith College, and also a pioneer sex therapist, it has been said that her life trajectory has gone from Smith to Sex to Saving the World.
---
YP Network career chats and roundtables are open to all WFPG young professional and student members. Not a member? Join now for 2021
Questions? Email us at [email protected]
---