April 20, 2021 |

Watch Video
Tara Kangarlou, Author

Farnaz Fassihi, The New York Times (Moderator)

WFPG hosted author Tara Kangarlou and New York Times reporter Farnaz Fassihi on Kangarlou's forthcoming book, The Heartbeat of Iran: Real Voices of a Country and Its People. In her book, Kangarlou drew on her experiences as a journalist in the region and as an Iranian-American to capture some of the "human stories" of the people of Iran, a message that she suggested is often lost amidst headlines of tensions and sanctions. During the conversation she covered some of the obstacles she faced writing this book, the stories of some of the Iranians she profiled, their hopes for the future, their perceptions of America, and the impact of sanctions on everyday life. She underlined how important it is to reach beyond the rhetoric to understand a country when developing policy. Kangarlou emphasized that many Iranians are optimistic about rejoining the international community and she hopes that stories like these will help to "bring together the people of the two estranged worlds" of America and Iran.
---
Tara Kangarlou is an award-winning journalist who has reported, written, and produced breaking news, investigative pieces, and broadcast stories for NBC, CNN, CNN International and Al Jazeera America. Her writing and reporting has also appeared in TIME, Vanity Fair, Huffington Post, and Al Monitor. She previously served as a fellow at the East West Institute, is a contributor to Al Jazeera, and a frequent commentator on various news outlets. In 2015, she led Al Jazeera America's team with unprecedented access to report from inside Iran during the nuclear negotiations. In recent years, she has reported extensively from the Syrian border regions of Lebanon, Turkey and Jordan covering issues that impact Syrian refugees, host countries, and the Middle East at large. In 2016, she founded Art of Hope, a nonprofit dedicated to supporting the psychosocial and mental health needs of refugees in Lebanon. Tara was born and raised in Tehran and is fully bilingual in English and Farsi.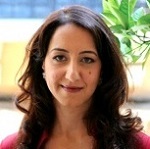 Farnaz Fassihi is a reporter for The New York Times based in New York. Previously she was a senior writer and war correspondent for the Wall Street Journal based in the Middle East. Fassihi has covered wars and uprisings across the Middle East, including in Iran, Afghanistan, Iraq, Israel, Gaza, Egypt, Lebanon, and Syria. She served as the Journal's Baghdad bureau chief (2003-2006) and deputy bureau chief for Middle East and Africa based in Beirut overseeing the newspaper's coverage and a team of reporters. From 2015-2019, she was part of the paper's Washington Bureau covering diplomacy and US foreign policy. She has won over a dozen national awards for Iran coverage and was a lead reporter in the Journal's award winning Censorship Inc. investigative series on how authoritarian regimes use technology for censorship and crackdowns. Fassihi is also the author of "Waiting for an Ordinary Day", a memoir of her four years covering the Iraq war.