March 15, 2021 |

Watch Video
Diana Villiers Negroponte, Author

Frances Burwell, McLarty Associates (Moderator)
WFPG hosted author and academic Diana Villiers Negroponte and Europe expert Frances Burwell to discuss Negroponte's new book Master Negotiator: The Role of James A. Baker, III at the End of the Cold War. As Secretary of State, James Baker played a critical role on the world stage as the Soviet Union unraveled. The impact of his diplomatic triumphs and failures are still evident three decades later. During his tenure, Baker navigated the fall of the wall and Germany's reunification, mobilized a military coalition to repel Saddam Hussein from Kuwait, initiated the Oslo peace process, and was instrumental in ending two civil wars in Central America. During the conversation, Negroponte gave an overview of this unique time in world history, as well as Baker's unique skill set, mindset and approach. She also described his legacy, the impact of his actions on US foreign policy and international relations today.
---
Diana Villiers Negroponte grew up in London and Europe during the Cold War, but never dared hope that the conflict would end peacefully. An American trained lawyer with a PhD from Georgetown University, she is also the author of Seeking Peace in El Salvador: The Struggle to Reconstruct a National at the End of the Cold War and edited The End of Nostalgia: Mexico Confronts the Challenges of Global Competition. She has written widely on Mexico, Central America, and the last years of the Cold War for The Brookings Institution, Wilson Center and Reviews of American History. She appears on CSPAN, CNN and MSNBC and lives in Washington, DC.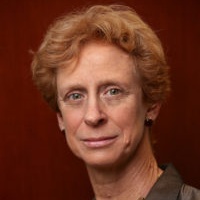 Frances G. Burwell (Moderator) is a distinguished fellow at the Atlantic Council and a senior director at McLarty Associates. A noted commentator on EU issues, her research has focused on the digital economy and privacy, US-EU trade and investment, US-EU security cooperation, and EU institutions and processes. Previously, Dr. Burwell served as the Atlantic Council's Vice President for European Union and Special Initiatives and Director of Transatlantic Programs and Studies; Executive Director of the Center for International and Security Studies at the University of Maryland; and the founding Executive Director of Women in International Security. She is the author of numerous policy reports and has contributed to The Telegraph, The Hill, C-SPAN, and NPR.