BUILD YOUR CAREER

November 10, 2020 | Online
Seasoned negotiators and co-authors Dr. Rebecca E. Webber Gaudiosi, Jimena Leiva-Roesch, and Ye-Min Wu joined us for a discussion on the building blocks for successful multilateral negotiations and how they have evolved in a virtual environment. They shared relationship-based negotiation strategies and outlined how they can generate better outcomes for all parties and the world at large.

This conversation was a part of our Professional Development Series co-hosted by Women In International Security. Members can watch a recording on our Member Career Resources Platform. 

For more from our speakers, check out their WFPG Voices blogpost on

 Diplomacy in the Virtual Era and their website.
This program was held in partnership with the Robertson Foundation for Government.
---
Advice from our Experts
Key Tips for a Successful Negotiation
Make Friends: Negotiation is personal. 

You have to meet the person, not just what they represent, in order to build trust and a lasting relationship.

Think Interests: 

You need to understand the other party's interest in order to reach a solution. Try working through the "interest ladder": what are their assumptions, what information are they utilizing, and what made them decide on that position?

Remain Neutral: 

Be aware of the "credibility problem": the sector is small and people will know your reputation before they even meet you, so make sure you always maintain your composure.

Be Prepared: 

Do your homework before showing up by knowing the context of the negotiations. Is there an upcoming election? Is one party facing a security issue? Being prepared also applies to more superficial things; how you dress or style your hair sends a message one way or another.

Use Creative Problem-Solving: 

Come to the negotiations with an open mind and know that the outcome is probably not going to be what you expected. Be flexible, and understand that ultimately you are playing the long game to build relationships and build trust that will last over time.
Protect the Legitimacy of the Outcome
Key Takeaways
The best agreement is more than an exact compromise. Try to find common ground between your interests and their interests, and be willing to think outside the box when coming up with a solution.

Again, negotiations are personal. It is important to be able to have a meal with the other delegation(s) afterwards, because those personal moments are when the real negotiations begin


As a negotiator, you are not in the business of changing minds. Your job is to look at another party's underlying interests and try to meet those needs, not to convince them that your point of view is the right one




Come to negotiations with an open mind because the outcome will not always be exactly what you are anticipating or hoping for.

Use your personal qualities - age, race, gender, etc - to your advantage. You should be using your experiences in order to relate to other negotiators and build relationships.
---
Thank you to our speakers!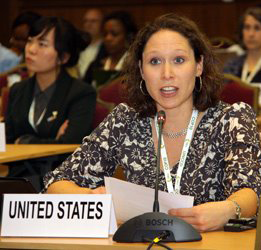 A scientist turned diplomat, Dr. Rebecca E. Webber Gaudiosi represented the United States at the UN from 2006 – 2014. She was responsible for U.S. engagement with over twenty-five multilateral organizations working on environment and climate change and also led on sustainable development issues at the UNGA, including Rio+20.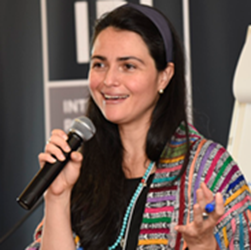 From 2009 to 2015, Jimena Leiva-Roesch was at the Permanent Mission of Guatemala to the UN in New York. She was the lead negotiator on climate change and the Sustainable Development Goals (SDGs). Ms. Leiva-Roesch is currently a Senior Fellow with the International Peace Institute where she leads a global study on the implementation of the 2030 Agenda.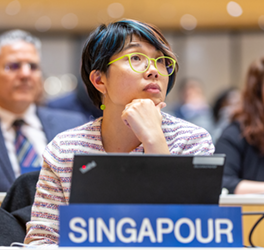 Ye-Min Wu has worked with the Ministry of Foreign Affairs, Singapore for over a decade. While at the Permanent Mission of Singapore to the UN, she chaired UN negotiations and represented the Group of 77 and China in negotiations on sustainable development. She is currently Singapore's Deputy Permanent Representative to the WTO and WIPO.