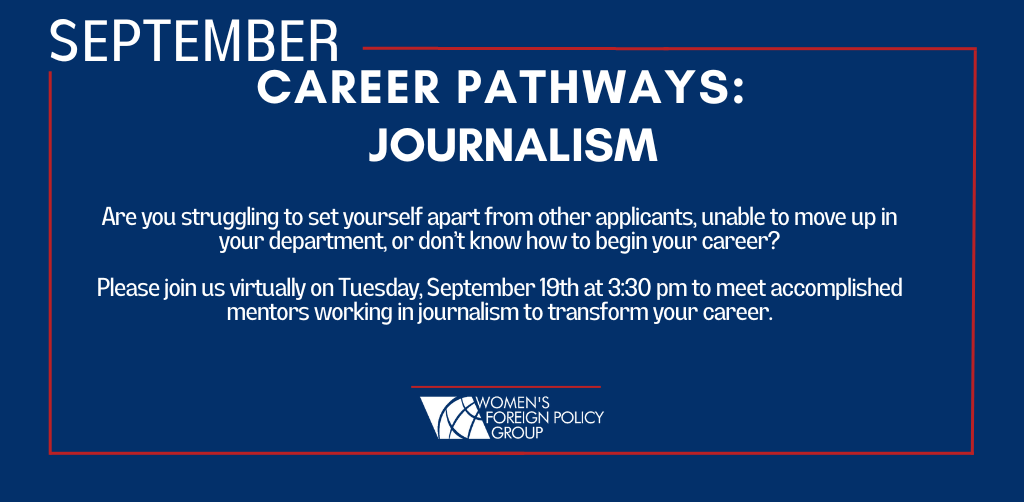 ---
Join us on September 19th at 3:30 pm to learn more about careers in journalism!
Please join us on Tuesday, September 19th at 3:30 PM to to meet accomplished mentors working in journalism.
Are you struggling to set yourself apart from other applicants, unable to move up in your department, or don't know how to begin your career? Join WFPG for our Career Pathways! These member-exclusive monthly online events feature women leaders in a variety of international affairs fields to help answer your questions. Each month, WFPG will feature a new group of speakers to talk about their chosen career paths, how they got there, and any advice they have for someone interested in the industry. Whether you are a student with a heavy workload, a young professional navigating your new life, or an experienced employee who wants to revamp their resume, Career Pathways is the resource for you. Potential Career Pathway topics include foreign service, human rights, international development, climate, public health, and more! Please join us on each third Tuesday of the month at 3:30 PM to meet these impressive mentors and transform your career.
With a network of over 21,000 individuals, the WFPG has unparalleled connections in all foreign affairs fields. Whether you aim to work with non-profit organizations, the public sector, or private companies, there will be a Career Pathway that fits your goals. As women, it is essential to have others who uplift you in these fields, and WFPG's Career Pathways are the beginning of finding the right mentor for you. Our mentors strive to help the next generation of women leaders succeed. Career Pathways are open to all WFPG members and we encourage our Student and Young Professionals Members to join.
Interested in attending Career Pathways, but not a member? No problem! We have a variety of different membership levels to fit your needs. As a WFPG member, not only are you invited to attend Career Pathways, but you also receive complimentary admission to all other in-person and virtual professional development and mentoring programs, such as our Mentor Minutes. Additionally, you will gain access to exclusive member experiences and opportunities.
WFPG Student and Young Professional membership is $60. Other membership types are available here.
Memberships are valid for one full year.
---
A conversation with:
Saleha Mohsin, Senior Washington Correspondent at Bloomberg
Ellen Nakashima

, National Security Reporter at The Washington Post


Jennifer Williams

, Deputy Editor at Foreign Policy



---

Tuesday, September 19, 2023 | 3:30 PM ET
Virtual Event - Attendees will receive the Zoom link once they have completed the registration form linked below.
---
---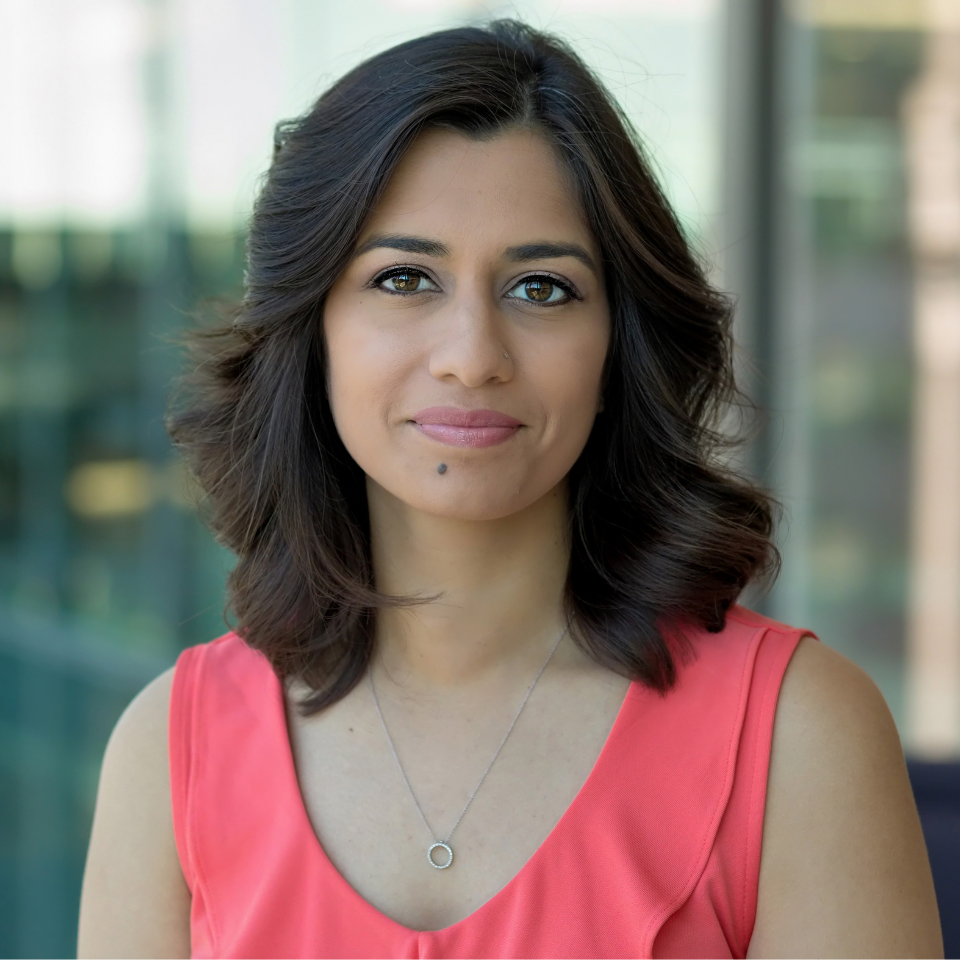 Saleha Mohsin has reported on economic policy from Ohio, London and Oslo to Washington, D.C. Her work covering the U.S. Treasury Department for Bloomberg News encompassed Trump's trade war, economic sanctions, parts of the Federal Reserve and Capitol Hill, and the government's response to the worst public health crisis in nearly a century. She also covered the transition into Janet Yellen's tenure as Treasury secretary, including the U.S. shift toward "Buy America," and "friendshoring," and the response to Russia's invasion of Ukraine. Saleha is now turning her attention more firmly toward economic statecraft, developing and executing news and feature articles to help readers understand how governments are using economic tools to achieve geopolitical objectives. She also has a book forthcoming on the weaponization of the dollar. It is scheduled for release in March 2024 by Penguin Random House.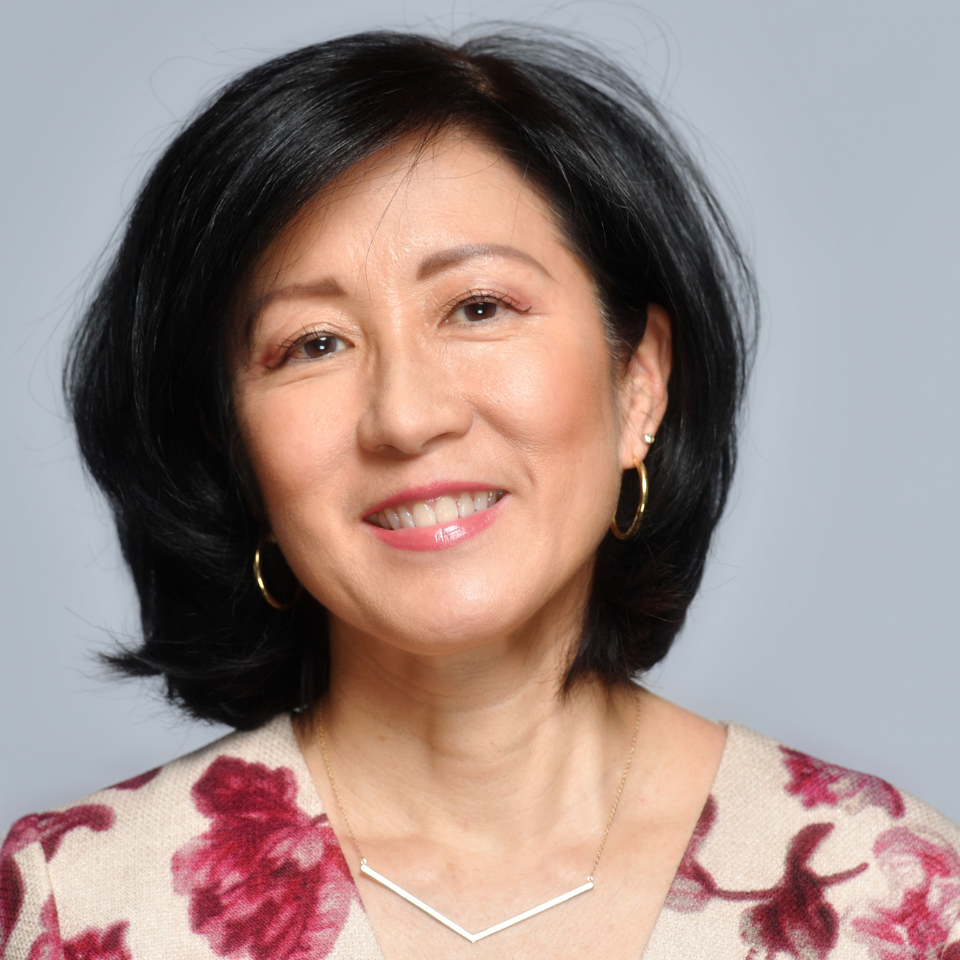 Ellen Nakashima is a national security reporter for The Washington Post. She covers intelligence and national security issues. She has written about the security aspects of the U.S.-China relationship, the west's response to Russia's invasion of Ukraine, and classified intelligence leaks. She has been a member of three Pulitzer-prize winning teams at The Post, including in 2022 for an investigation of the Jan. 6 assault on the U.S. Capitol, in 2018 for digging into Moscow's efforts to influence the 2016 election, and in 2018 for exploring the hidden scope National Security Agency surveillance.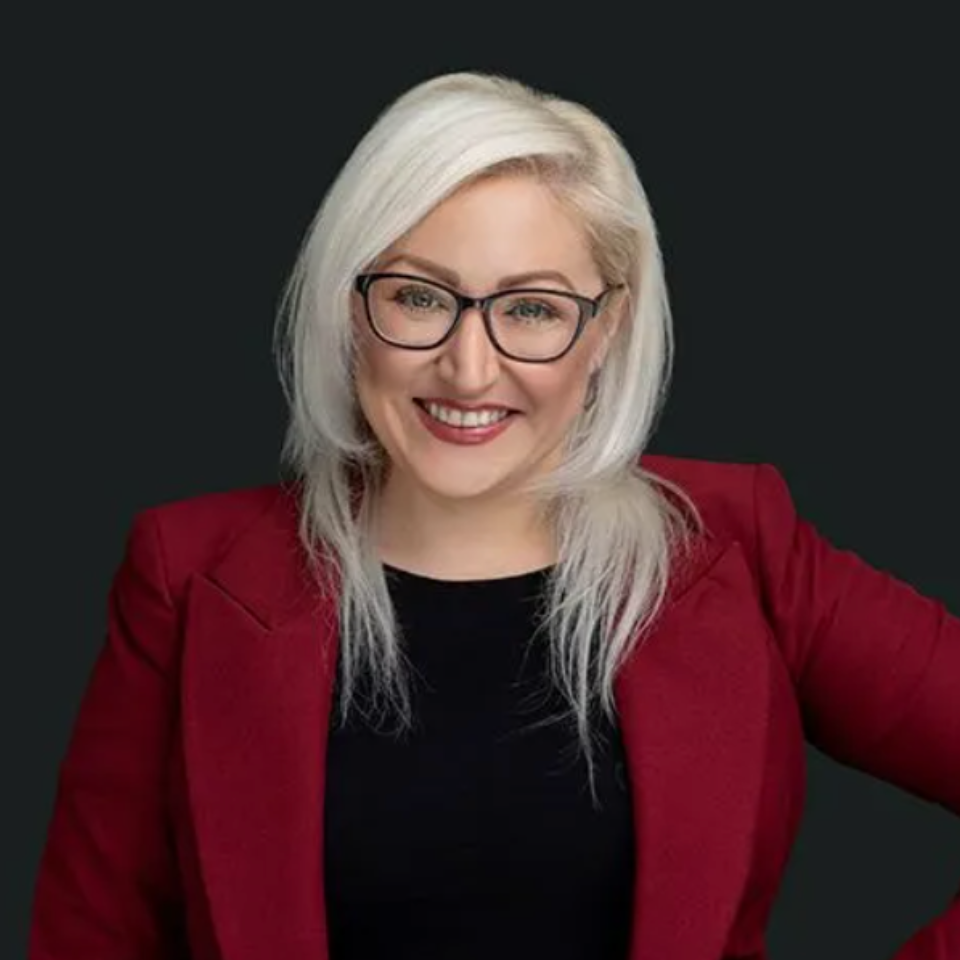 Jennifer Williams is a deputy editor at Foreign Policy and the host of FP's The Negotiators podcast. She previously worked as a senior foreign editor at Vox, senior researcher at the Brookings Institution's Center for Middle East Policy, and deputy foreign policy editor for Lawfare. Williams has also written for Foreign Affairs and the National Interest. She was a fellow at the Sié Chéou-Kang Center for International Security and Diplomacy at the University of Denver's Josef Korbel School of International Studies, where she received an M.A. in international security.
---
The Women's Foreign Policy Group is a non-partisan organization committed to promoting women's leadership and voices in international affairs through in-depth global issues programming and mentoring. Not a WFPG member? Get engaged with our programming and events: