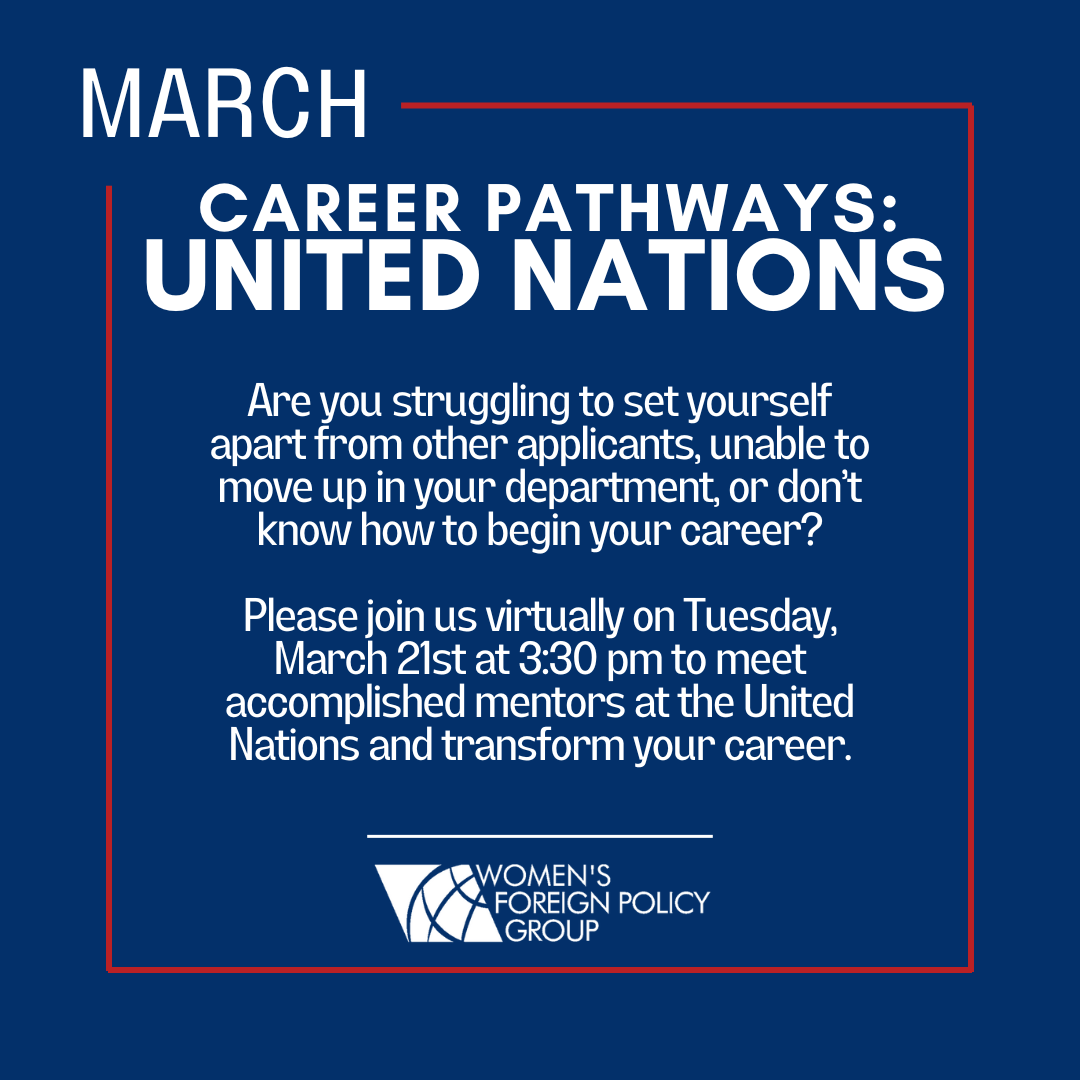 This month, WFPG is excited to announce our brand new mentoring initiative "Career Pathways," with a focus on careers in the United Nations this month! Panelists include Stefania Piffanelli, Director, United Nations Information Center, Washington; Stefano Pettinato, Deputy Director, United Nations Development Program Washington Representation Office; and April Pham, Senior Gender Advisor, United Nations Office for the Coordination of Humanitarian Affairs, New York. Career Pathways is open to all WFPG members. To learn more about Career Pathways, other mentoring programs, and WFPG membership, please see below.
Are you struggling to set yourself apart from other applicants, unable to move up in your department, or don't know how to begin your career? Join WFPG for our Career Pathways! These member-exclusive monthly online events feature women leaders in a variety of international affairs fields to help answer your questions. Each month, WFPG will feature a new group of speakers to talk about their chosen career paths, how they got there, and any advice they have for someone interested in the industry. Whether you are a student with a heavy workload, a young professional navigating your new life, or an experienced employee who wants to revamp their resume, Career Pathways is the resource for you. Potential Career Pathway topics include foreign service, human rights, international development, climate, public health, and more! Please join us on each third Tuesday of the month at 3:30 PM to meet these impressive mentors and transform your career.
With a network of over 21,000 individuals, the WFPG has unparalleled connections in all foreign affairs fields. Whether you aim to work with non-profit organizations, the public sector, or private companies, there will be a Career Pathway that fits your goals. As women, it is essential to have others who uplift you in these fields, and WFPG's Career Pathways are the beginning of finding the right mentor for you. Our mentors strive to help the next generation of women leaders succeed. Career Pathways are open to all WFPG members and we encourage our Student and Young Professionals Members to join.
Interested in attending Career Pathways, but not a member? No problem! We have a variety of different membership levels to fit your needs. As a WFPG member, not only are you invited to attend Career Pathways, but you also receive complimentary admission to all other in-person and virtual professional development and mentoring programs, such as our Mentor Minutes. Additionally, you will gain access to exclusive member experiences and opportunities.
WFPG Student and Young Professional membership is $60. Other membership types are available here.
Memberships are valid for one full year.
---
A conversation with:
Stefania Piffanelli, Director, United Nations Information Center, Washington.
Stefano Pettinato

, Deputy Director, United Nations Development Program Washington Representation Office.


April Pham

, Senior Gender Advisor, United Nations Office for the Coordination of Humanitarian Affairs, New York.
---

Tuesday, March 21, 2023 | 3:30 PM ET
Virtual Event - Attendees will receive the Zoom link once they have completed the registration form linked below.
---
---

Stefania Piffanelli is the acting Director of the United Nations Information Center (UNIC) in Washington. Ms. Piffanelli brings to the job over 20 years of experience with the UN, academia and the private sector. Before joining UNIC Washington, she was part of the team investigating those responsible for the use of chemical weapons in Syria. Previously, Ms. Piffanelli managed the work of the UN Peacebuilding Commission and the Peacebuilding Fund in Sierra Leone both out of New York and Freetown. She served as the Special Assistant to the UN Deputy Secretary General and in the Executive Office of the Secretary-General under Secretaries-General Ban Ki Moon and Kofi Annan. She also held a number of positions in the UN Department of Economic and Social Affairs in the areas of development and gender equality. Earlier in her career, Ms. Piffanelli worked as a consultant for the UNDP Bureau for Eastern Europe and Central Asia and for UNDP Lebanon. Prior to her work with international organizations, she worked as a junior fund manager in Italy. She holds a PhD in Economics from New York University and a graduate degree in Economics from the University of Bologna, Italy. She speaks English, Italian and French and has some knowledge of Spanish. She is an Italian citizen.

Stefano Pettinato is the Deputy Director of the United Nations Development Program's (UNDP) Washington Representation Office. His 20-year long career at UNDP includes assignments as Resident Representative for Bahrain, Deputy Resident Representative for El Salvador and Belize, Regional Policy Adviser on social policy and human development for Latin America and the Caribbean in the Panama Regional Hub, and Policy Advisor in the Human Development Report Office in New York. Before joining UNDP, Stefano held positions in various organizations in Washington, DC, including the Inter-American Development Bank, where he worked on pension reform policies in Central America, and the World Bank. He was also Senior Research Fellow at the Brookings Institution and the Carnegie Endowment for International Peace, working on the political economy of inequality and supporting organizations such as Peru's Instituto Cuánto. Stefano also worked as a researcher at the UN Economic Commission for Latin America and the Caribbean in Santiago and at S.W.I.F.T. in Brussels. Stefano is one of the co-authors of the 2003 and 2004 editions of UNDP's global Human Development Report. He contributed to numerous UNDP regional reports, including La Democracia en América Latina. Hacia una democracia de ciudadanas y ciudadanos (2004), and Seguridad Ciudadana con Rostro Humano: Informe Regional de Desarrollo Humano para América Latina (2014). He authored the book Happiness and Hardship: Opportunity and Insecurity in New Market Economies with Carol Graham (Brookings Press, 2002). He also co-authored Indexes of Structural Reform in Latin America (1999, Serie Reformas Económicas de la CEPAL) and has published several peer-reviewed journal articles and book chapters on the political economy of poverty, inequalities, subjective well-being, the economics of happiness, and social security reform, with a focus on the Latin America and Caribbean region. Stefano obtained a Master's degree in development and public economics from the University of Florence and a Master's degree in international economics and Latin-American studies from the Johns Hopkins University, School of Advanced International Studies.

April Pham is a Senior Gender Advisor and the Head of Gender Unit in the Office of the Assistant Secretary-General and Deputy Emergency Relief Coordinator at the UN's Office for the Coordination of Humanitarian Affairs. Ms Pham has over 25 years of experience in social justice, human rights, gender equality, and the prevention and response to violence against women/gender-based violence in development and humanitarian settings. Prior to joining OCHA, she was a senior gender advisor for the Inter-Agency Standing Committee, where she provided strategic interagency support to Humanitarian Coordinators and country teams, on matters pertaining to gender equality, empowerment, and leadership in humanitarian situations in Myanmar, Fiji/the Pacific, Ukraine, Turkey/Syria cross border, Yemen, Sudan, South Sudan, and at global level in Geneva Switzerland. Earlier in her career she was a youth worker, and women's rights advocate in the NGO sector, as well as working for state government in Australia on policy, prevention and legislative reforms on issues of violence against women. Ms.Pham holds a masters in International Humanitarian Affairs from the University of York, UK, a Bachelor of Law from University of Technology Sydney and a Bachelor of Social Science from Western Sydney University.
---
The Women's Foreign Policy Group is a non-partisan organization committed to promoting women's leadership and voices in international affairs through in-depth global issues programming and mentoring. Not a WFPG member? Get engaged with our programming and events: